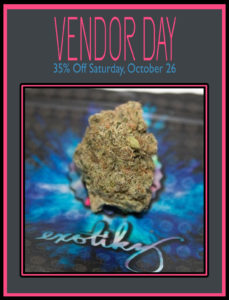 Saturday, October 26th
EXOTIKZ! 35% Off!
Premium Flower

Some Of The Best Pre-Rolls In Washington

Terp Sauce

Contender Gardens (Pesticide Free) OUNCES $89.95!

Flight 9 10-Pack Pre-Rolls $9.95
(They Come In A Cool Tin)

Regulator Sugar Wax $10.95

Plus, even more great stuff on the sale table. Come on in and check it out!